Main content starts here, tab to start navigating
Got FOMO?
Join our Hospitalit-E-Club & never miss out on things like specials, events, or really exciting news!
Join the Hospitalit-E-Club
18% Gratuity added for parties of 8 or more
Enjoy rotating varietal oyster selections & chef's specials
from our menu printed in-house daily!
Download PDF

(opens in a new tab)
RAW BAR
Oyster Shooter

pepper vodka, oyster, spicy cocktail sauce

$5.95

House Oysters*

On the 1/2 shell or steamed

Dozen $21.95

Hard Shell Clams*

Dozen $13.95

Trio Sampler*

4 each: house oysters on the half shell, hard shell clams, peel & eat shrimp, cocktail sauce and mignonette sauce

$23.95

Chilled Seafood Plateau*

A variety of raw & cooked seafood and garnishes;
3 house oysters, 9 varietal oysters, 6 hard shell clams, 4 peel & eat shrimp, chilled mussels, lobster claws, tuna tartare, chilled crab salad

MKT
SHAREABLES & STARTERS
Tuna Tartare

toasted white sesame seeds, cucumber, soy, tobiko wasabi caviar, wonton chips, crushed avocado

$17.95

Peel & Eat Jumbo Shrimp

1/2 lb. beer boiled with old bay, cocktail sauce

$15.95

Char-Boiled Oysters

NOLA butter, parmesan, 1/2 dozen

$16.95

Southern Fried Oysters

bleu cheese, buffalo sauce, celery

$13.95

Corn Fritters

maple butter

$6.95

Lump Crab Cakes

mustard sauce

$16.95

Baked Oysters Rockefeller

1⁄2 dozen, crawfish, lump crab, bacon. our twist on the classic

$16.95

Fried Shrimp

cocktail sauce

$15.95

Calamari

lemon basil aioli

$16.95

Steamed Mussels OR Hard Shell Clams

white wine garlic butter broth

$15.95

Crab Dip

served warm, cream cheese, horseradish, warm baguette

$15.95
SOUPS & SALADS
N.E. Clam Chowder

Cup $8

Bowl $11

Seafood Gumbo

Cup $8

Bowl $11

Pearlz House Salad

mixed greens, tomato, scallions, croutons, cucumber, & egg with choice of dressing

$9.95

Classic Caesar Salad

$8.95

add fried oysters or grilled shrimp $7

Iceburg Wedge

bleu cheese dressing, tomato, bleu cheese crumbles, applewood smoked bacon

$10.95

BLT Seafood Tower

shrimp, crab, shredded lettuce, carrots, tomato, applewood smoked bacon, egg, green goddess dressing

$16.95
Entrees
Lowcountry Fish & Chips

cod, beer battered, with malt vinegar, cajun tartar, house chips

$18.95

Shrimp and Grits

chef's daily creation

$24.95

Seafood Linguine Pasta

shrimp, clams, mussels, herbs, white wine, garlic, tomato

$24.95

Pearlz Fried Shrimp Dinner

house chips, corn fritters, cocktail sauce

$23.95

Pearlz Fried Oyster Dinner

house chips, corn fritters, cocktail sauce

$24.95

Certified Angus Beef® Ny Strip

roasted fingerling potatoes, grilled asparagus, grilled balsamic onions, chimichurri

$29.95

add on grilled shrimp, fried shrimp or fried oysters $7
Pearlz Select Fresh Catch
A Selection of Fresh Fish Changing Daily

Blackened, Fried, Pan-Seared or Grilled served with andouille cajun red rice and grilled asparagus

MKT
Sandwiches
Pearlz Signature Burger

certified angus beef,® roasted garlic herbed goat cheese, applewood smoked bacon, spinach, pickled red onion, house chips

$15.95

Crab Cake Sandwich

pan seared crab cake, baby arugula, tomato, mustard sauce, house chips

$18.95

New England Lobster Roll

classic lobster salad, top split bun, house chips

$27.95
Tacos
Served on flour tortillas ONE: $7.95 TWO: $14.95 THREE: $19.95
Tuna Taco

crushed avocado, pineapple chutney, sriracha mayo, red cabbage

Grilled Mahi Taco

cabbage, pico de gallo, crema

Crispy Shrimp Taco

red cabbage, black bean corn salsa, chipotle-lime aioli
Sides
5.95
GRILLED ASPARAGUS

BROCCOLI SLAW

ROASTED FINGERLING POTATOES

ANDOUILLE CAJUN RED RICE

FLASH FRIED BRUSSEL SPROUTS WITH PARMESAN CHEESE
CHEF'S DAILY SHRIMP & GRITS
Fried shrimp topped with a pepperjack, bacon, and ranch cream sauce and green onions.
PAN SEARED TROUT
$30
Served with a crab ragoon risotto and asparagus.
CAJUN SEARED WAHOO
$28
Served with cavatappi pasta in a broccoli cheddar cream sauce served with a baguette.
DAILY FRESH CATCH
Wahoo (NC) $28
Flounder (NC) $28
Trout (WA) $30
John Dory (NZ) $32
NO

SUNDAY BRUNCH


ON SUNDAY, 12/3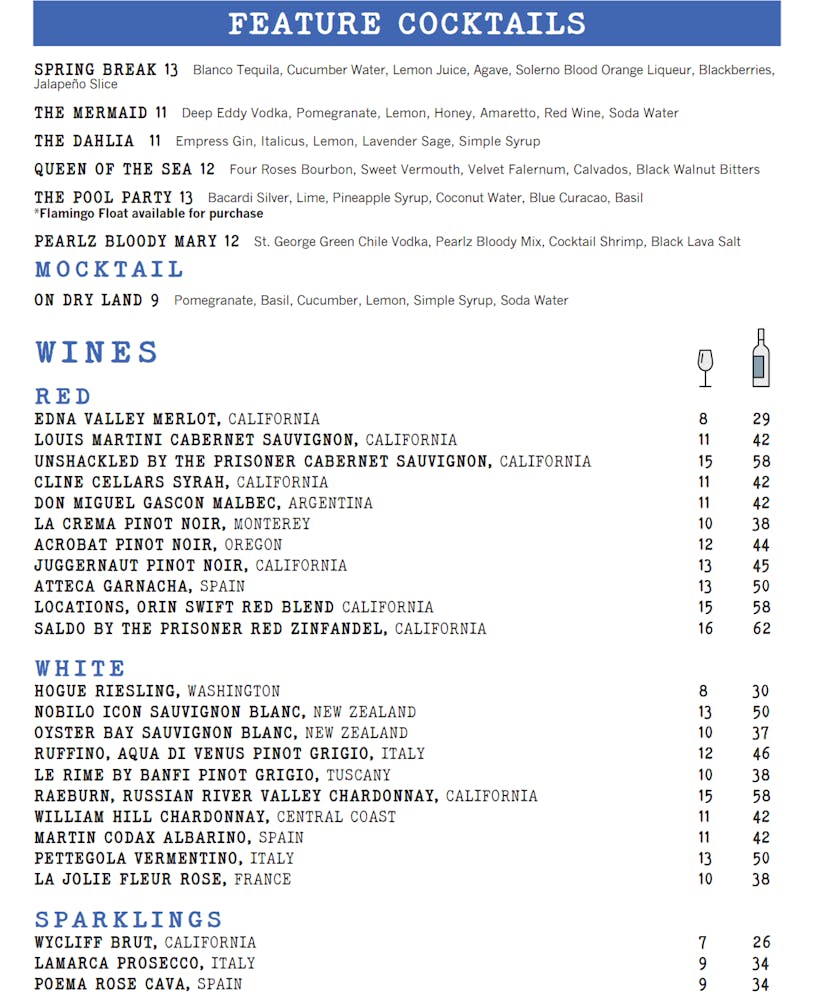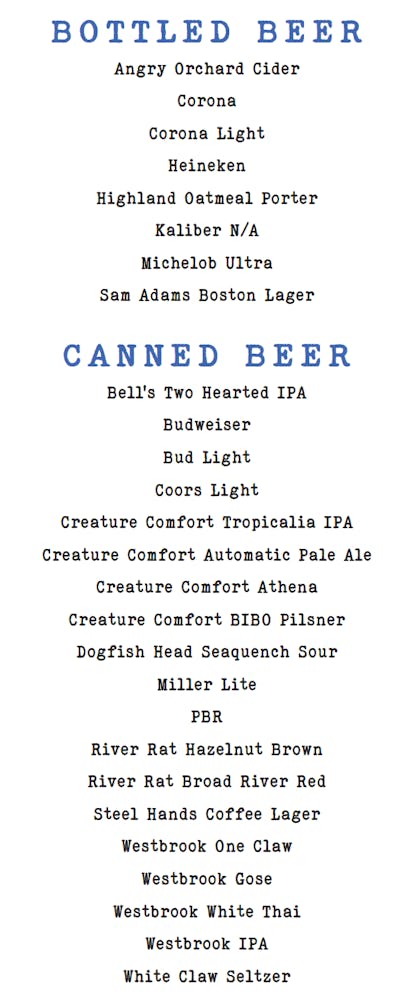 Steel hands lager
Draft
Terrapin Pregame Pale Ale
Sycamore Mountain Candy
Blue Moon
Guinness
Sweetwater Hazy IPA
Yuengling
Sam Adams Winter Lager
Bold Rock Orchard Frost
Sweetwater Lager
Snafu Brocean Water
Noda Holiday Spruce IPA

CANNED BEER
Steel Hands Sandstorm Lager

Martinis
El Presidente

Classic dirty martini made with Tito's Handmade Vodka, and finished with blue cheese stuffed olives

Pama-tini

Deep Eddy Orange, PAMA pomegranate liqueur, pomegranate juice, triple sec

Greyhound Martini

Deep Eddy Ruby Red vodka, St. Elder natural elderflower liqueur, grapefruit juice, lemon twist
MULE
Strawberry Lime Mule

Deep Eddy Lime Vodka, strawberry syrup, fresh lime juice, ginger beer
Half Priced Wine Sundays
Don't miss out on HALF PRICED BOTTLES every Sunday.
12pm-10pm
*dine in only, selection may vary
BOURBON
Angels Envy Bourbon
Basil Hayden Bourbon
Blantons Bourbon
Bulleit Bourbon
Buffalo Trace Bourbon
Elijah Craig
Eagle Rare
Evan Williams Black
E.H. Taylor Small Batch
Four Roses
Four Roses Small Batch
Henry McKenna 10yr
Jim Beam
Knob Creek
Larceny Bourbon
Makers Mark
Willett Pot Still Reserve
Woodford Reserve

TOP SHELF BOURBON
Bomberger's Declaration
Little Book
Woodford Masters Five-Malt
10yr Pappy Van Winkle
12yr Pappy Van Winkle
High West Midwinter Nights Dream
High West Prisoner Share

RYE
Angels Envy Rye
Bulleit Rye
Knob Creek Rye
High West Double Rye

Whiskey
Canadian Club
Crown Royal
Crown Royal Peach
Crown Royal Regal Apple
Gentleman Jack
Jack Daniels 10yr
Jack Daniels
Jameson Irish Whiskey
Jameson Irish Whiskey Orange
Jameson Cold Brew
Jameson Caskmates IPA
Jameson Caskmates Stout
Seagrams 7
Seagrams Vo Canadian
SQRRL Peanut Butter Whiskey
Shackleton Blended Malt

SCOTCH
Balvenie 12 Yr
Dewars White Label
Glenfiddich 12 Year
Glenlivet 12
Johnnie Walker Black
Johnnie Walker Red
Lagavulin 8 Yr
Laphroaig 10Yr
Macallan 12 Sherry Oak
Oban

TOP SHELF SCOTCH
Johnnie Walker Blue
Macallan 18
Octmore 12 yr
WHITE
Vincent Girardin Macon-Fuisse, France

$85

Hess Collection Panthera Chardonnay, Russian River Valley

$95

Cakebread Chardonnay, Napa

$110
SPARKLING
JCB Cremant De Bourgogne Brut Rose

$70

Veuve Clicquot

$150

Dom Perignon

$450

TAITTINGER BRUT RESERVE

$125
RED
Penner-Ash Pinot Noir, Willamette Valley

$110

Orin Swift, 8 Years in the Desert, Red Blend, California

$110

Adaptation by Plumpjack Cabernet Sauvignon, Napa

$125

Stags Leap Cabernet Sauvignon, Napa

$150
Pearlz Kids Menu
$6.95 Per Kids Plate | Includes kids drink. | All Kids meals served with homemade chips
Fish Fingers served with Tartar Sauce

Fried Shrimp served with Cocktail Sauce

Hamburger sliders

Grilled Quesadilla

Pasta Alfredo